n
When completed, the transportation of infrastructures will create a leverage to push up property value in the South area
Expand the roads, build the bridges
Based on infrastructure development plan of HCM City from now to 2020, the three main roads expanded include Nguyen Huu Tho, Le Van Luong and Huynh Tan Phat.
Subsequently, new six bridges which are going to be built consist of Nguyen Khoai Bridge going through Kenh Te river; Rach Dia 1 Bridge on Le Van Luong Street which are planned to carry out in 2017 and complete in 1st quarter of 2018; both Thu Thiem 4 Bridge connecting Thu Thiem to Phu My Hung and Thu Thiem 3 Bridge have been approved by People's Committee of Ho Chi Minh City; the remaining two bridges comprising Phuoc Khanh Bridge and Binh Khanh Bridge are estimated to complete in 2019.
Especially, the 1st phase of the overpasses and tunnels at Nguyen Huu Thọ - Nguyen Van Linh intersection are estimated to started in early 2017. The project includes a 60m roundabout with two tunnels and roads on Nguyen Van Linh Parkway. The development of two more overpasses, two more tunnels and Nguyen Huu Tho expansion will be executed in phase 2 of the project.
The ring roads linking the South in particular and HCM City in general to other provinces are in the deploying process creating consecutive and closed transport system. Specifically, the 1st phase of Long Thanh – Ben Luc Highway is estimated to complete in 2017 and then phase 2 in 2019.
Another information, no less attractive to real estate investors, is that Phu My Hung announced the plan of undergrounding Nha Be 220KV power line going through Saigon South Residences with the estimated completion in 30 months.
Properties "speed up" in the South
The opportunity to make investment or to own properties in the South is now evaluated at the golden time. To explain for this statement, Tran Quang Khai – an investment expert in real estate industry claimed that the price of real estate in the South is more affordable than the East. This is impacted by the great land portfolio and infrastructure in the area. Currently, the South, especially Phu My Hung, is a favorite choice of youngsters and successful people who need a modern and high-ranking living space. "The property price in the South will continue to increase significantly when the infrastructure are in progressing state along with amenities and services of the established model city center" – Mr. Khai said.
It can be seen that the advantage in the South now belongs to big developers who have already acquired great land portfolio before. Recently, Phu My Hung, one of the big investors in the South area, has a surprise for the market by launching Saigon South Residences at the price 2 billion VND/unit. More remarkably, the handover will be on the strategic time in 2019 when the key infrastructures of the South are complete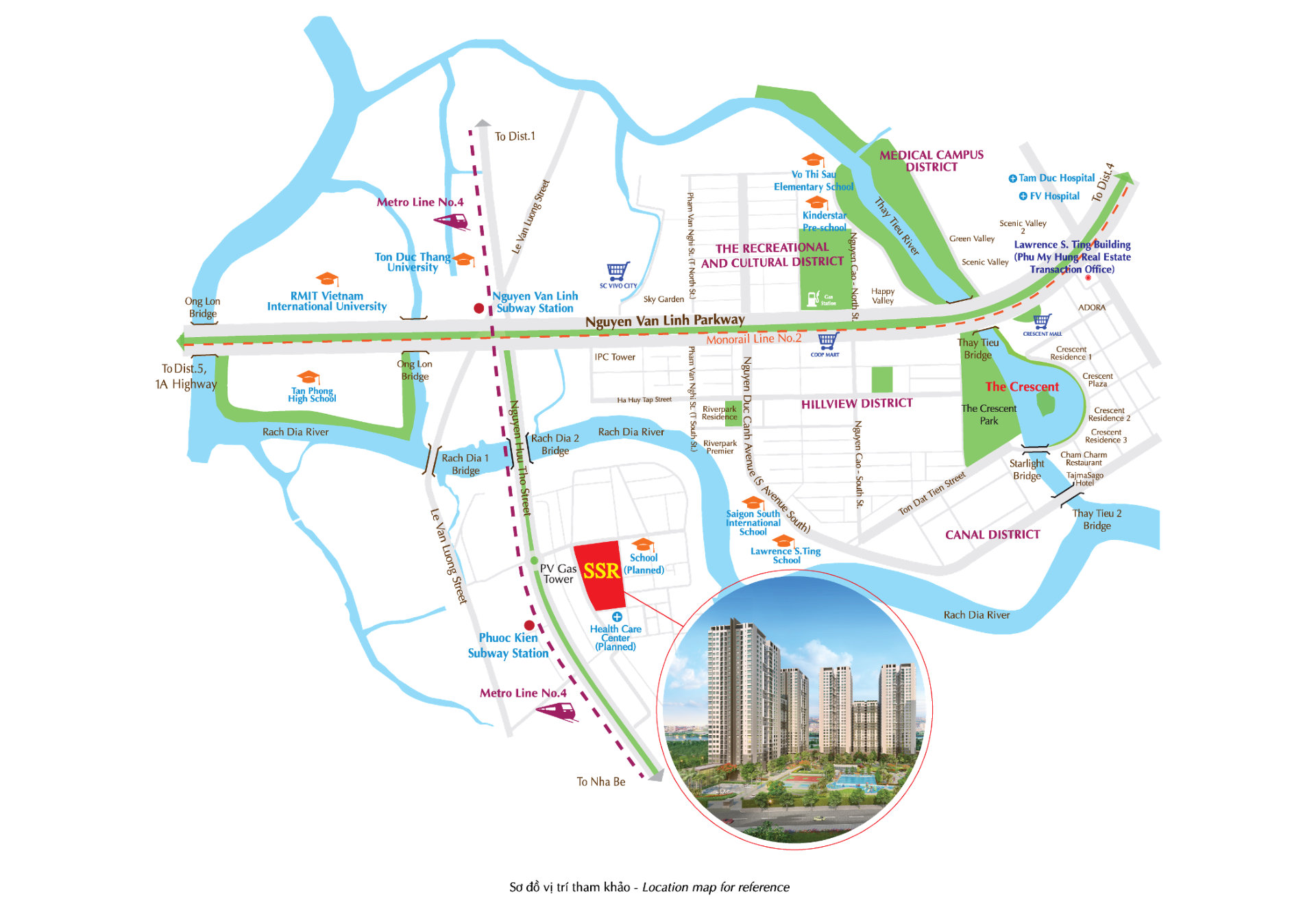 Sai gon South Residences, a new project of Phu My Hung, is located at a strategic location with over 15 surrounding infrastructures to be complete at the project handover in 2019, promising a significant value appreciation
Mr. Truong Quoc Hung, Vice President of Phu My Hung, said: "This expansion of product line aims to target the youth. Therefore, 68% condos are designed with two bedrooms and usable area from 60 -70 sqm in order to create the best conditions for customers to settle their finance". Moreover, Phu My Hung has offered the best and longest payment schedule so far, from 1% per month. Accordingly, within 38 months from deposit to handover, customers only need to pay 50%. Then, 45% and 5% of payment will be made when receiving houses and ownership document respectively.
"The transport infrastructures of the South are changing positively; hence, the new projects of Phu My Hung are also developed to catch this development as Saigon South Residences is located quite close to Phuoc Kien station of Metro Line No.4 connecting the South to the central area." – Mr. Hung added.
As confirmed, the first launch of Saigon South Residences, the great opportunity to own Phu My Hung condos only from 20 million VND per month, will be held on 23rd October 2016.