THE ANTONIA | THE ANTONIA
THE ANTONIA OVERVIEW INFORMATION
THE ANTONIA is a high-end apartment project launched by investor Phu My Hung in 2020. It is an indispensable piece of puzzle to complete the modern, dynamic and bustling picture of the most crowded joint road in Phu My Hung urban area. Each development project along Nguyen Luong Bang street is a component creating an impressive highlight for the arterial avenue full of artistic architectural style. No exception THE ANTONIA is one such project.
THE ANTONIA Phu My Hung brings the privilege of owning to 366 esteemed owners located in front of the 48m wide Nguyen Luong Bang commercial avenue, deployed on land S6-1 including 2 blocks of 24-storey building. Located in the middle of the garden with the sound of prosperous town in the taste of nature, THE ANTONIA is a bright choice for starting a journey of happiness and sublimation.
✅ Project location: Lot S6-1, Nguyen Luong Bang Avenue, Tan Phu Ward, District 7
✅ Investor: Phu My Hung Development Limited
✅ Land area: 5,880 m2
✅ Construction density: 52.77%
✅ Total number of apartments: 366 apartments
Building A: 183 units
Building B: 183 units
✅ Scales: Consists of 2 building blocks with 24 floors (not including basement)
✅ Type of apartment: Diversify types of apartments with many types of area to meet diverse ownership needs of customers
- 2 bedrooms (76.40 - 89.02 m2): 280 units
- 3 bedrooms (107.30 - 111.01 m2): 80 units
- Penhouse (256.81 - 273.73 m2): 6 units
- Shop (1st floor - 2nd floor): 15 apartments
✅ Estimated time:
- Commencement: Year 2019
- Completion: June 2023
THE ANTONIA - STRATEGIC LOCATION IN CENTER OF URBAN CITY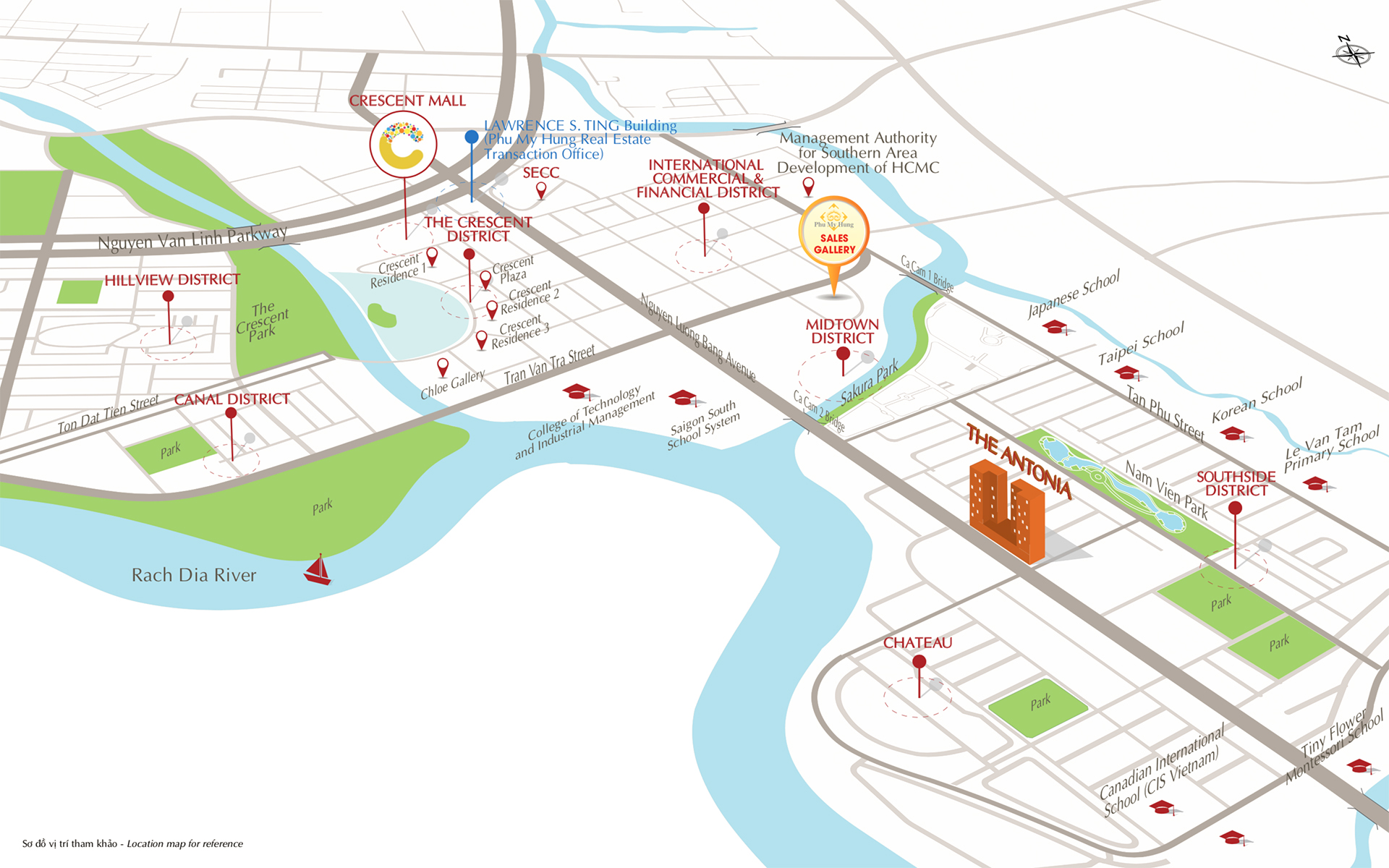 THE ANTONIA PHU MY HUNG owns the GOLDEN LOCATION on the façade of the busiest commercial avenue in Phu My Hung. This is one of the three main roads of the city, planned to be the largest commercial route in Phu My Hung, similar to major boulevards in the world: Ginza of Japan, Orchard Road of Singapore ...
In particular, THE ANTONIA is the CONNECTING POINTS between CHATEAU Castle villas and MIDTOWN complex where the landmark SAKURA PARK is being formed - the two most luxurious housing projects in Phu My Hung and the elite community. Owning THE ANTONIA apartment means opening up many opportunities to connect, do business and enjoy the unique natural landscape from these two landmarks.
The value of THE ANTONIA creates a special attraction when located in the Nam Vien area - a place like GREEN ISLANDS of the city thanks to the large green area and surrounded by the Ca Cam river. Not only inheriting a beautiful view, a fresh living environment, but according to Top Feng Shui experts, this place also converges good air because of the natural water flow, clear water day and night, bringing lots of luck and fortune for residents.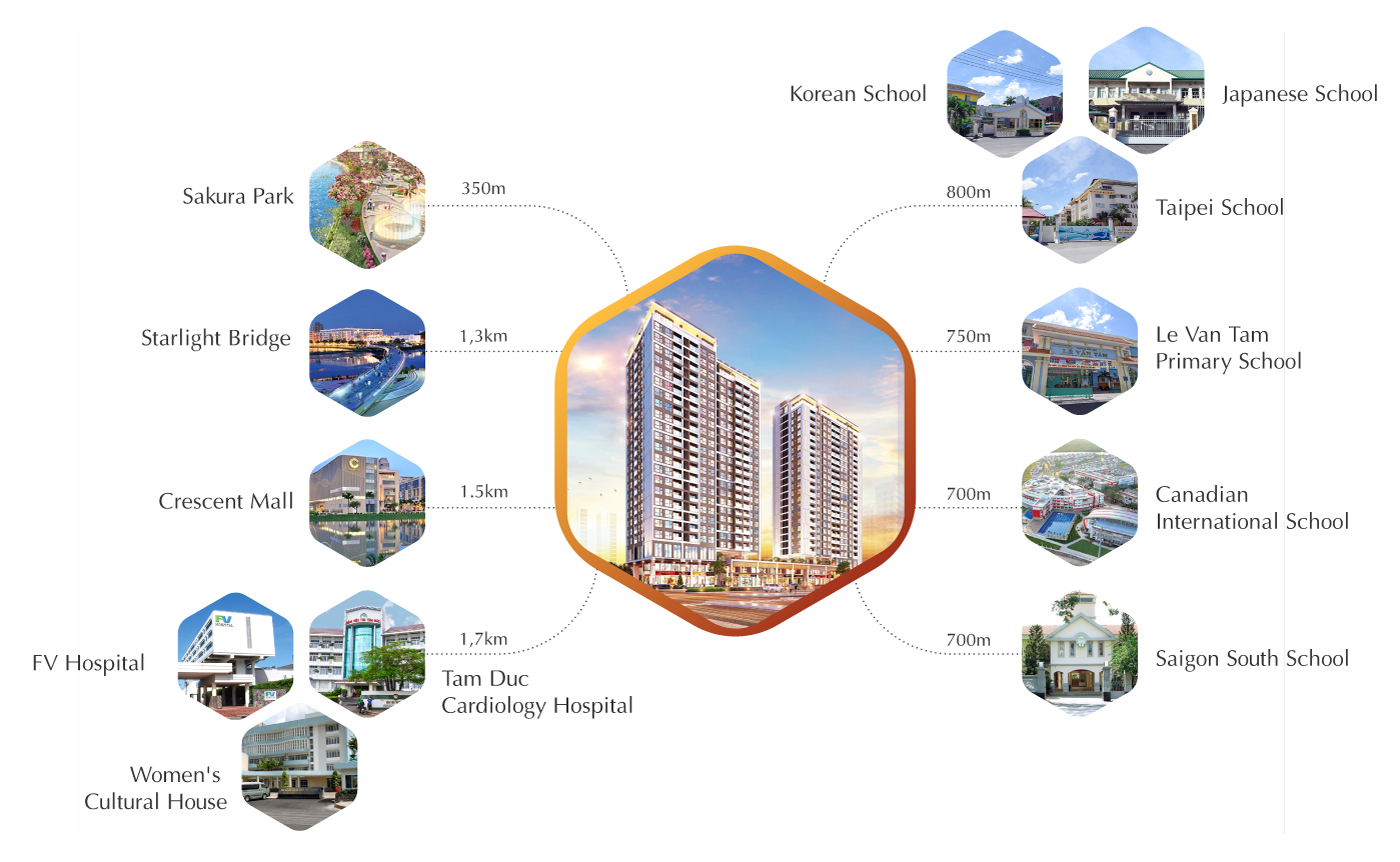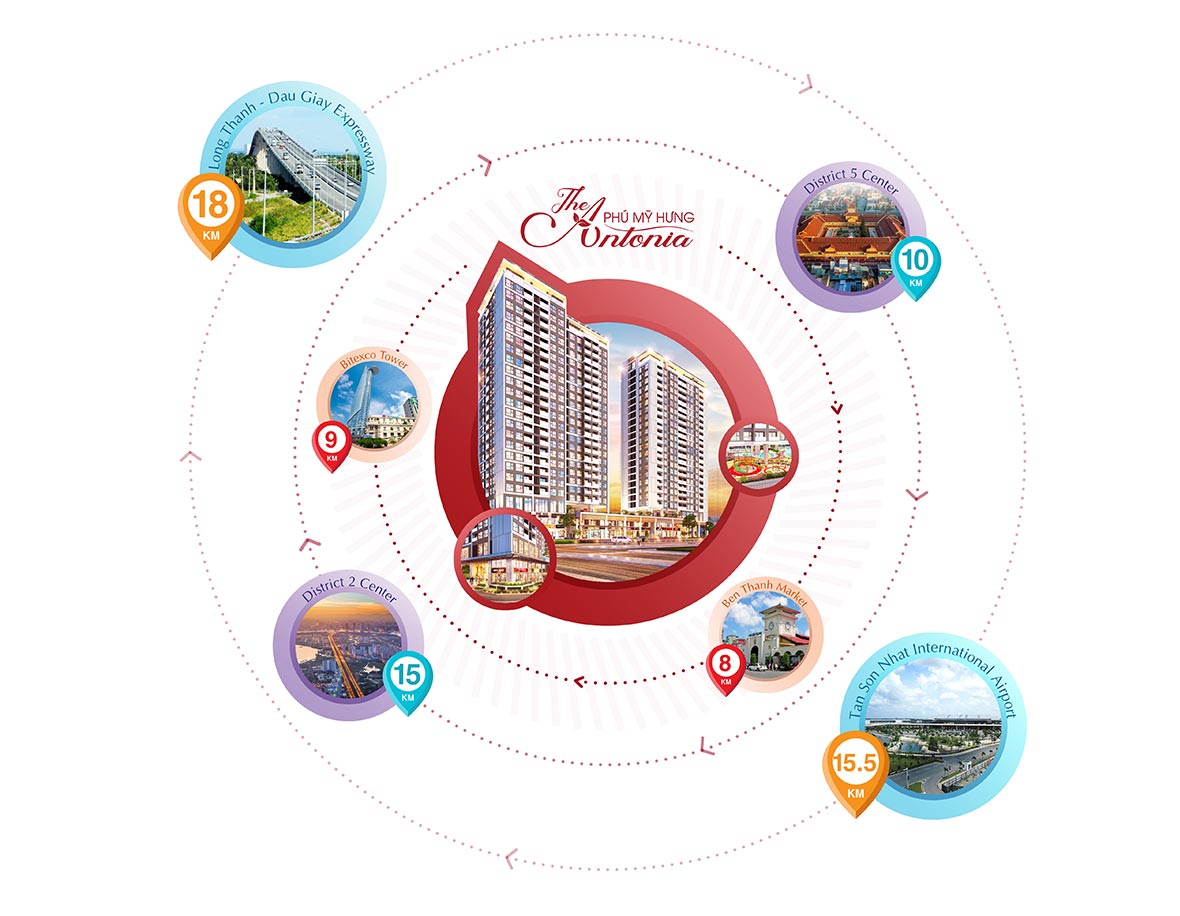 THE ANTONIA AMENITIES- RECREATING ENERGY & NURTURING NEXT CREATIONS
Separating yourself from the hustle and bustle of the city. Immersing your soul to the staycation and recreational amenities. Each day at The Antonia will be a great adventure – which recreates the energy and nurtures next creations.
5 star standards with full amenities: Swimming Pool, Aqua Gym, Kid's Pool, Kid's Room, Gym Room, Jacuzzi, Yoga Room, Treatment Room, Reading Room, Entertainment Room, Multifunational Room, Golf Room.......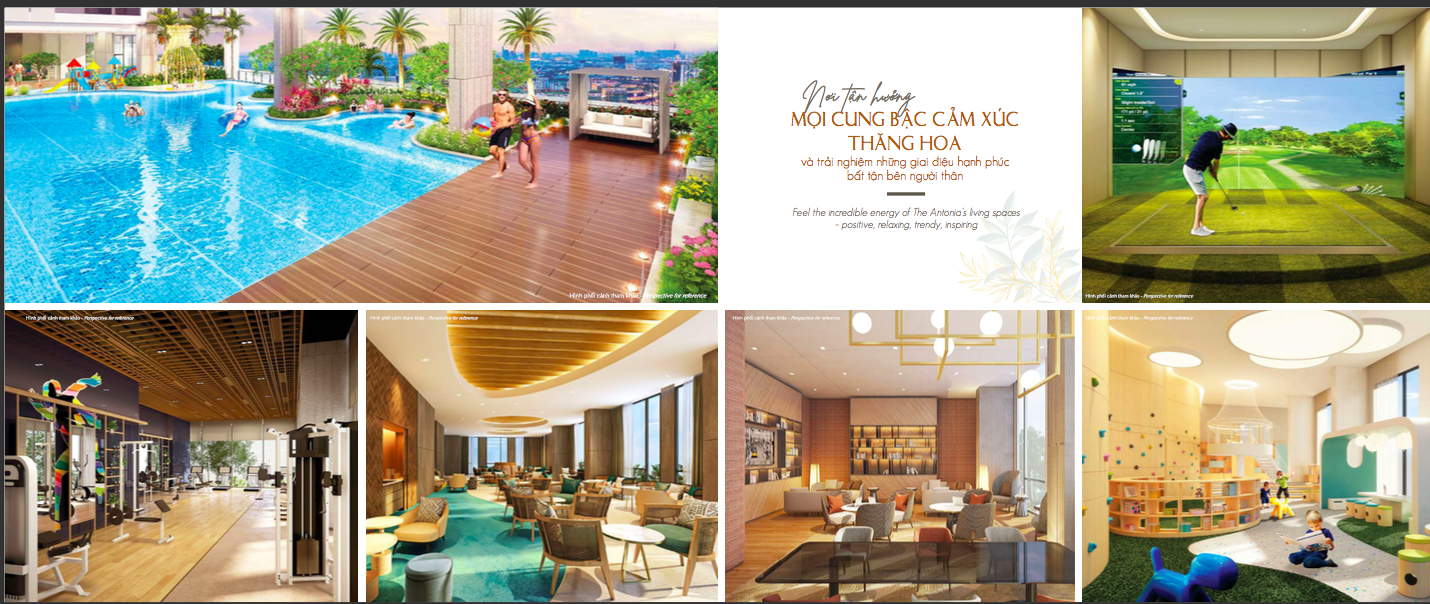 Gym Room

Kid's Pool

Swimming Pool

Children's Room

Multifunctional Room

Ping Pong Room

Yoga room

Swimming Pool

Reading Room

Golf Room

Bath Room

Bath Room
UNIQUE VALUES OF THE ANTONIA
✳️ Aliveness: Located in the vivid Nguyen Luong Bang Commercial Avenue, gathering the aliveness of multiple commercial activities and future development
✳️ Niche: Niche design & materials imported from highly-acclaimed brands only for the connoisseurs
✳️ Tranquility: Drown in the "green oasis" Southside District with over 8.9m2/person of green ratio, enjoying the sense of tranquility which recreates the body and mind
✳️ Odyssey: Built with recreational & staycation amenities, opening up to the odyssey of a lifetime
✳️ Noble: Home to the noble elites which are only 366 owners
✳️ Ideal: An ideal living space right at the first model urban area of Vietnam
✳️ Assurance: The firm assurance of quality, hand-over commitment & transparent legality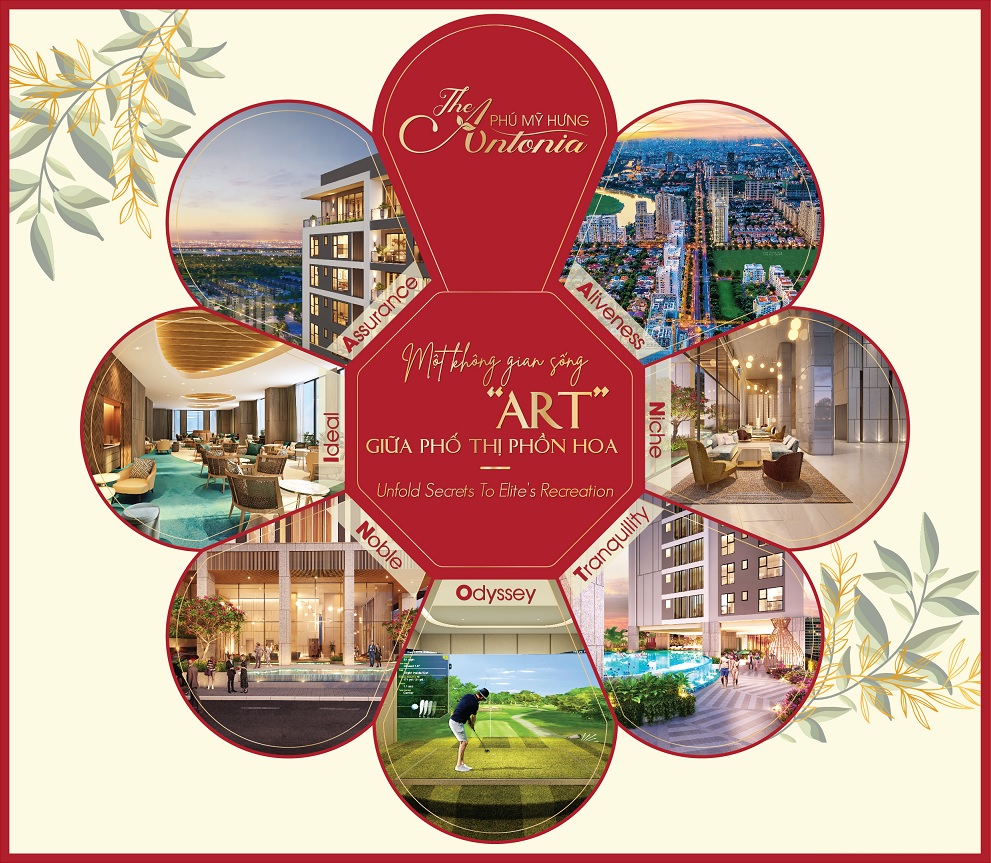 PRICE QUOTATION
For more information about Midtown, please fill in your details

Lý Thu Thảo
Sales advisor
Our Sales advisor will respond as soon as possible and serve you 24/7.